The Pros & Cons of Using a Mortgage Broker in Manchester
It can be daunting taking that first step into the mortgage world for the first, second, or third time. With many options for first time buyers in Manchester, home movers and buy to let landlords' to take for themselves, it is time and cost effective to get it right the first time.

Regardless of your mortgage goals and situation, we offer a tailored and friendly service to try and help you through your mortgage journey.

We understand the process can be complicated. Therefore, we have great confidence in our ability to help our customers through the mortgage process and provide expert mortgage advice in Manchester to new and existing customers.

In this article, we have collated an overview of the pros and cons of approaching a mortgage broker in Manchester which may help you, and why many people prefer coming to us for mortgage advice in Manchester. 
Why use a mortgage broker in Manchester?
Cost-Effectiveness
Many believe that by doing direct and finding your own mortgage deal, you are more likely to save money. This is not entirely the case, as most mortgage brokers in Manchester may charge a fee, however, this does base on circumstances and company you go towards.

It could be easier and more cost-effective if you have a lot of knowledge and have a simple case, but it can be more complex depending on your situation so approaching a mortgage broker in Manchester would be useful.

Not having much knowledge could result in ending up on the wrong deal or being unsuccessful on your mortgage application. Either of these conditions could end up you spending more money than you must or harming your credit score. Which can impact your chances of applying for a mortgage in the future.

With a dedicated mortgage advisor in Manchester by your side, they will aim to help you achieve your mortgage goals. Their goal is to get their recommendation right for the first time, at the best price. As much as this comes with a service fee, it could mean that you save much more money overall.
Local Bank Branch Relationship 
Loyalty can be one reason many customers approach the bank directly and how the mortgage process was previously run. This was the way before the rise of technology and online banking, in which loyal customers approached their local branch every day, usually talking to the same person.

In terms of the mortgage process, your best bet would have been to get the best person to approve a mortgage for you because you get help and guidance from the bank manager himself, who is an expert and has a thorough knowledge of your finances. Now, the process is significantly different with the credit scoring being digital.

Because of this, the bank manager will not physically go through the case themselves; it will go through a complex online system to see if you are eligible for a mortgage. Everything is fair regardless of which bank you are with.
Exclusive Mortgage Products 
Many believe that you are open to better, exclusive offers by going directly. Again, this is true, though, it can be limited. That is because they only offer their company the best deals.

Not all mortgage lenders are banks, and there are many more options available. Therefore, the deal that the bank considers suitable for you may not be the best deal beyond the bank you could have gone with.

Getting specialist mortgage advice in Manchester can be the best way to get a competitive deal that is suitable for you. One of our expert mortgage advisors in Manchester will be able to go through your case and find you the best deal from our large panel of lenders.

This is another advantage of approaching a mortgage broker in Manchester rather than just a bank.

After the topic of deals, you can find approaching a mortgage broker in Manchester can provide you with exclusive deals that you cannot find anywhere else. There will be a broad range of options when you are with a mortgage broker regardless of if you are a first time buyer, moving house, or looking to remortgage in Manchester.
Changes to Regulation & Consumer Protection  
In the wake of the 2007-08 credit crunch, a huge improvement in the mortgage market had to occur. One of these changes was stated in the 2014 Mortgage Market Review. Which instructed lenders without extensive expert advice to sell mortgages to their customers.

Because of this, people could not just approach a bank to tell them they wanted a mortgage and were promptly granted without checks. Not every employee in the bank could grant you a mortgage. Which was something that happened regularly regardless of whether they were qualified to do so or not.

As well as this, these changes also bought about consumer protection, which a bank would not have given you. Now, you can place a complaint with the Financial Ombudsman if you feel misadvised. Another way to make a claim is through the Financial Services Compensation Scheme.

This means reassuring a customer that they will be safe and advised accordingly regardless of their mortgage journey. This applies to mortgage brokers in Manchester and lenders.
Book an Appointment with a Mortgage Advisor in Manchester 
Another drawback you get approaching a bank instead of a mortgage broker in Manchester is the timing. When you approach a bank, it can take months to talk to someone in a bank. Moreover, when you start the process, you are not updated as much through the mortgage journey.

Here at Manchestermoneyman, our responsive team will contact you at a time that is best for you and your day to day life. From early to late, 7 days a week, including weekends, our mortgage advisors in Manchester will be available to answer any of your questions and keep you up to date. You might find us being contactable on some bank holidays.

In some cases, you may attend your appointment on the same day, but this should not be the case. You can talk to someone whenever you are ready and available.

We understand that the lifestyle of each customer is different. As a result, our advisors in Manchester are available throughout the day, which means you can book an appointment beyond 9-5 or even on weekends! Our online booking system is simple, where you can find a slot to speak to a mortgage advisor in Manchester.

Responsiveness is a fundamental value within our company. Whether you are at the beginning of the process or towards the completion of the mortgage, our friendly team will always keep you up to date. If there are changes, your mortgage advisor in Manchester will contact you as soon as possible.

Providing this high-quality service is why many mortgage brokers in Manchester, like us, are favoured in the public eye. With this popularity, many people prefer to approach local experts rather than national banks.
Handling of Complex Scenarios 
Thanks to our extensive industry experience, we have found that some cases are more difficult than others. Below are just some scenarios that are slightly more difficult than the usual case:
Mixed Depsoit – This means auditing two different sources like a gifted deposit and money from savings. 
Zero Hour Contract Workers – Will there be a consistent income? 
Looking to Make a Second Purchase – Can they afford to make that additional purchase? 
Self-Employed with No Fixed Income – This can be challenging for anyone who is self employed in Manchester. 
Poor Credit History – A lender will not look favourably upon an applicant who has mismanaged in the past. 
Affordability – Can they afford a mortgage full stop? 
Previously, mortgage lenders could easily compete by offering better deals than the others. Now, the main change in which deal you go with is if you match the criteria.

You can find a cheaper deal, but it may not meet your criteria. To see if you can have a mortgage, the mortgage lender carries out a hard search (resulting in a footprint on your credit file).

In the case where you apply for the mortgage with a lender and refuse a deal in principle, this could harm your credit file. The most frustrating thing about all this is that it is very unlikely that you will be given a reason you have been rejected.
Agreement in Principle
Mortgage brokers in Manchester will be able to go through your case and advise you on ways to increase your chances of being accepted. With access to a wide range of lenders, they can find you the most suitable deal that perfectly matches you with its criteria and then start getting an agreement sorted for you in principle.

If you get an agreement in principle through Manchestermoneyman, it will usually be sorted for you within 24 hours of your free mortgage appointment.

Keep in mind that this doesn't automatically mean you agree or guarantee a mortgage at the end. However, it makes your credit file much safer by having an expert go through it in advance. Our team of Mortgage Advisors in Manchester will always aim at getting our recommendation right the first time.
Should I use a Mortgage Broker in Manchester? 
There are pros and cons of approaching a mortgage broker in Manchester. On the hand, there are many pros and cons to going direct too. The difference is how fast you want your service to be, as well as how safe you want to be.

As a dedicated mortgage broker in Manchester, we have extensive experience in dealing with a wide range of clients who go through the mortgage journey. Whether you are a first time buyer in Manchester taking that first step into the mortgage world. Somebody who is coming towards the end of their fixed period, or looking to remortgage in Manchester, our team are more than happy to help!

Book yourself in for a free mortgage appointment or remortgage review to speak with an expert mortgage advisor in Manchester. Our team is here to help with your mortgage goals, with availability that suits you, subject to availability.

For more information about our service, check out our brilliant customer reviews. These show the high level of service we give our happy customers daily. We also have a YouTube channel MoneymanTV if you are looking for more insight into the mortgage world. 
What is a 95% Mortgage?
A 95% mortgage is as simple as the name would suggest; you are borrowing against 95% of the price of a property, and then you are covering the remaining 5% with your deposit. An example of this is if you looked at buying a property that was worth £150,000 with a 95% mortgage, you would be putting down £7,500 as your deposit and borrow the remaining £142,500 from the lender.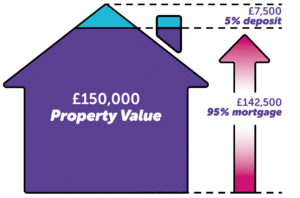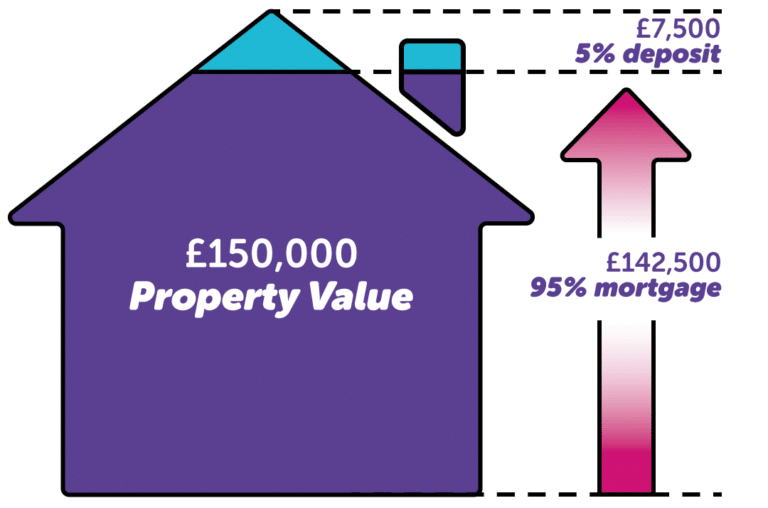 95% Mortgage Advice in Manchester
Off the back of the March 2021 Budget, Boris Johnson announced a Mortgage Guarantee Scheme for mortgage lenders, making 95% mortgages more readily available from the bigger high street banks.

This is fantastic news for First-Time Buyers and Home Movers alike, as this scheme will continue running until December 2022. Certain terms and conditions will apply though, which is something your Mortgage Advisor in Manchester will be able to look at, to see if you qualify.

All our customers who opt to Get in Touch will receive a free, no-obligation mortgage consultation where one of our dedicated mortgage advisors will be able to make a recommendation on the best possible route for you to take.
Can I get a 95% mortgage?
95% mortgages are usually accessible by both First-Time Buyers in Manchester & those who are Moving Home in Manchester. Whilst saving for a 5% deposit sounds like a pretty straightforward concept, you'll still need to have an acceptable credit score and prove that you are able to afford your monthly mortgage repayments, in order to access a 95% mortgage.
Improving your credit score
A good credit score is essential in the process of obtaining any mortgage, especially a 95% mortgage. Things like paying any current credit commitments on time, ensuring your addresses are updated and checking that you're on the voters roll, can all help with your credit score. For a more detailed analysis at what you can do and why, please see our How to Improve Your Credit Score article.
Affordability
Affordability is another one that is important to take note of. By giving the lender details of your income and monthly outgoings (things like your bank statements will be necessary for this) and any pre-existing credit commitments, your lender will be able to get a general overview of whether or not you are able to afford this type of mortgage.
Can my family help me get a 95% mortgage?
Nowadays we see lots of family members helping each other get onto the property ladder, especially parents looking to further their children's lives. The way this usually happens is by gifting the person looking to find their home, the deposit required. Known through the industry as the "Bank of Mum & Dad, Gifted Deposits are only intended to be a gift, and not as a loan. The lender will need proof that this has been agreed, before it can be used towards your mortgage.
How do I choose the right 95% mortgage?
When looking for a 95% mortgage, you want to make sure you have the right type of mortgage. Each mortgage type works differently, with that choice allowing you to find one that is most appropriate for your personal and financial situation.

Some homeowners and home buyers prefer Fixed Rate or Tracker Mortgages, mortgage types which mean you either keep interest rates at a set amount for the term given or have your interest rates tracking the Bank of England base rates.

Alternatively, you might find that Interest-Only or a Repayment Mortgages are more your style. Interest-Only allows cheaper payments until you need to pay a lump sum at the end (mostly now used for Buy-to-Lets), whereas a Repayment mortgage (a normal mortgage if you'd like) means you'll be paying interest and capital combined per month.

You can read more about these in our Different Types of Mortgages article, with informative videos covering each topic.
How can a bigger deposit help with my mortgage?
Seeing as a mortgage is such a large financial outgoing, you need to be prepared and need to be aware. You might find things like higher interest rates, remortgaging difficulties due to less equity and then negative equity all cropping up if you're not.

There is no need to worry though, as all these can be avoided if you're savvy enough with your process to begin with. The more deposit you put down for a property, the less risk the lender will see you as.

A larger deposit, of say 10-15%, would not only reduce the rates of interest by a noticeable amount, but would also give the property more equity and reduce the risk of negative equity, thanks in part to you borrowing less against the property.

So, whilst the risks may seem intimidating, planning ahead and saving for a bigger deposit to access something like a 90% or even an 85% mortgage will be a massive help in your mortgage journey and something you'll be able to reap the rewards from in the future.
Why Is It Not Easier To Get a Mortgage in Manchester?
Problems getting a Mortgage in Manchester
Many customers see the process of obtaining a mortgage as a stressful and difficult one. All lenders have their own specific lending criteria and applicants can often feel like they're stuck in an endless cycle trying to obtain a mortgage directly with the lender of their choice.

When you reach this point, it's important not to get yourself down and instead seek the help of a professional in the field, like a Mortgage Broker in Manchester. No matter the situation you are currently faced with, our trusted team of experienced Mortgage Advisors may be able to help. We help First-Time Buyers in Manchester, those looking to Remortgage in Manchester & even the Self-Employed in Manchester.
Lender criteria & credit scores
Depending on the lender you end up taking out a mortgage with, some credit scores are a little trickier to pass than others. This is because whilst a lot of lenders will cover general grounds, though some will be targeting specific niche markets.

It would seem to be the case that generally, lenders with the lowest rates will have stricter lending criteria than lenders that may have higher interest-rates. Due to this, most customers will find they don't match the criteria of every lender that they come across.

When lenders offer very competitive deals, the criteria margins tend to be a lot tighter. This is to ensure customers don't fall into any kind of debt, which should be a top priority so that the lenders may remain in profit. Due to this, qualifying for them can unfortunately present itself as quite the challenge.

These lenders of the High Street who are offering the cheapest of deals will try to use other means of maximising their earnings from borrowers. Once a lender has agreed to give you a mortgage, it is not uncommon for them to try and sell you other products that they offer, in a bid to try and make them more commission than they're already getting from the mortgage. The products they may try to sell you include Bank Accounts, Unsecured Loans, Credit Cards & Insurance.
Rates of interest & remortgages
Every so often, mortgages with the lowest rates of interest are bundled with higher setup fees. The recommended best practice usually is to ignore products like these and leave the product recommendation in the hands of an open & honest professional with experience in mortgage advice. This is somewhere we can help.

Our trusted and dedicated Mortgage Advisors in Manchester will be able to recommend the product that best suits your individual circumstances, saving both your time and your money.

Lenders may also try and take advantage of customers when their original mortgage deals are starting to reach the end of their term. Some lenders still let borrowers move onto a Standard Variable Rate (SVR), in hopes the customer may stick around and continue to take out mortgages and other services under themselves.

Mostly these days, lenders will offer follow-on deals, often called "Product Transfers". Whilst it may be an easier option in arranging one of these with your lender, in some cases these deals may not compare well when looking at deals made available to new customers. As such, it's always worth exploring your options elsewhere before deciding on something.

In truth though, not all customers are actually able to take out a Remortgage somewhere else. If for some reason your credit history has changed during your mortgage term, there's a chance your only option will be to keep on using your lenders Standard Variable Rate. This may also be the case with changes in personal circumstances, such as relationship status.
Economical impact
The status of the economy at the time can also affect the level of difficulty in obtaining a mortgage. If things are looking pretty rough for the economy, lenders may restrict how much they're willing to lend out to their customers. On the flip side, if things are going well, they may be willing to lend out a little more than they otherwise would've.

It's a scenario where there are both positives and negatives to the same situation. Some would say qualifying for a mortgage in the modern era is considerably easier, whilst some would argue it's become more difficult than it ever was in the past.

Back before regulations were put in place, we would regularly see "Subprime" and "Self-Cert" mortgages, readily available to those looking to take out a mortgage. Around the early 2000s, new lenders were popping up everywhere, relaxing their criteria and attempting to seize the opportunity to make money wherever they could.

Overseas in North America, something known as "Ninja Mortgages" became popular, which stood for "No Income, No Jobs Or Assets". Thankfully, mortgage types such as "Ninja" & "Self-Cert", of which were incredibly reckless, are no longer allowed, with only "Subprime" continuing through specific lenders.

After the unfortunate case of Credit Crunch, lenders took a whole new view on the world of mortgages, tightening their mortgage lending criteria. The required deposit was often 25%, with many struggling to get onto the property ladder at all because of this. On top of higher deposits, interest rates also went up, leading to many deciding they would much rather stick with renting.
Fast & Friendly Mortgage Advice in Manchester
Getting Prepared for a Mortgage
First Time Buyer Mortgage Advice in Manchester
You've done great so far. Most of the money for your mortgage has been saved, now it's time to get prepared for a mortgage! We've compiled a list of some helpful advice for First Time Buyers in Manchester, in order to ensure you're as mortgage ready as possible.
How to get prepared
Up-to-date credit report
The first thing you should always aim to do is get an up-to-date credit report, even before you come to a mortgage broker in Manchester for mortgage advice. It's a good idea to pay off any outstanding payments you have, even if you're holding off based on matters of principle. This way you'll have less going against you, increasing your chances of getting a mortgage!

A really good tip is to make sure you're on the voter's roll, as that apparently has a positive effect on your credit score. Closing down old credit cards also seems to really help. Your Mortgage Advisor in Manchester will run through your credit report in the early stages, giving advice on what you could do to make sure your credit score looks great!
Proof of identification
At the start of your home buying process, you'll be asked to provide some photo ID. Our customers usually bring a driving license or passport to help out with this.

Your driving license can be quite handy for your address too, although you can only use it for one of the options, so if you're using it for photo ID, you'll need something else to assist with proof of address. Any non-UK nationals now residing in the UK will need to show us a copy of their Visa also.
Proof of address
You'll also need some documents that evidence where you live. The normal go-to for these is a utility bill or original bank statement that has a date of the last 3 months. Alternatively, as mentioned above, if you're using a passport for photo ID, you can use your driving license as proof of address too.
Last 3 months' bank statements
Your bank statements should evidence your income and regular expenditures. It's preferable if you don't gamble leading up to this, as the lender may hold this against you. The same goes for going past overdraft limits and letting direct debits bounce – This is all about getting prepared.

Most lenders will ask to see your bank statements, as they like to be confident that you take your finances seriously. The bank statements usually needed are the ones that show your salary going in and your bills going out.
Evidence of deposit
As a First Time Buyer in Manchester, you will have to prove you have the funds in place for the deposit and evidence this for anti-money laundering purposes. It's always best practice to limit moving money around your various accounts, as it makes evidencing the audit trail more difficult. Lenders prefer to see your savings building up, so you'll need to account for any large amounts that have been transferred into your accounts recently.

Nowadays, deposits are often gifted by family members and is the most popular way forward for First Time Buyers in Manchester. These need to be evidenced also, with the "donor" needing to sign a letter confirming it's non-refundable.
Proof of income
The most important thing when it comes to affordability is proving your income. This is often your last 3 months of payslips if you're employed, with some lenders needing to see your most recent P60. Lenders may also consider regular overtime, shift allowance, bonuses and commission. If you have more than one employer (maybe you have a part-time job or are self-employed), lenders will also accept earnings from those.

These days, many applicants are self-employed and seeking fast and friendly Mortgage Advice in Manchester. Self Employed applicants will need help from their accountants to request their last 2-3 years' proof of earnings from the Revenue. Our Mortgage Advisors in Manchester are able to talk you through what to download from the Government Gateway if you're in control of your own accounts.
Budget planner
It's always a good idea to do your homework and write down an estimate of what your outgoings might be after you move to your new home. This helps you work out how much your council tax and utility bills will be, plus regular expenditures like food and drink. It's also able to show how much disposable income you'll have available to pay your mortgage from. We'll send you our version of a budget planner before we go forward with our appointment, which hopefully can help you with this.
Getting prepared For a Mortgage in Manchester
As you can see from all of the above, it's not easy to get prepared for a mortgage, although it's still achievable! If you put in the hard work from the start, staying patient and being careful, things are a lot more likely to go your way!
The Importance of Changing Your Address
Mortgage Advice in Manchester
When it comes to applying for a mortgage, you need to be careful and watch out for your credit score. The higher your credit score, the more likely that it is that you will be accepted by a lender for a mortgage. There are many different things that can have an effect on your credit score.

One of these, is the fewer addresses you have on your record the better. People are starting to go about this the wrong way though.

More and more, we see applicants who have moved out of their parents address into rented accommodation, but are still leaving their bank statements, credit card and electoral roll information registered to their parents address.

For some reason, people think that it is a good idea and it could help their credit score, however, it can actually damage your credit score. Almost without fail, if you have moved to a new address, there will be some record of this on your credit report, whether you change your details or not.

Things as simple as a delivery address when you have ordered something online or a car/home insurance search can appear on your credit report.
Check before you apply
Before you perform a credit search and apply for a mortgage, you have to make sure that, to your knowledge, nothing will affect your credit score. You will need to get all of your accounts (credit cards / current accounts) and electoral roll are all changed over to your current residential address.

This only really applies to you if you have already moved out of your parents home, as when you are moving out to get a mortgage in a new home, you are able to change your details to the new property once you've moved in.

Regardless, all these things needs to be double and triple-checked when applying for a mortgage. We always find that people forget to update their address on their credit file and electoral roll. It can make a massive difference to you in your quest for a mortgage!

It's important that you get the dates right too, knowing the exact date you moved into your rented property and the day that you left it. If you do happen to make a mistake with these dates, lenders may be under the impression you are living in two places at once.
Impress the lender
By making sure that every bit of information on your file is up-to-date, you are proving to the lender that you know what you are doing and you are taking the process seriously. It's a more open and honest way of trying to apply for a mortgage. You want to impress them in any way you possibly can and this is a good way to start doing so.

If you still need a bit more help or just want some insight from a professional Mortgage Advisor in Manchester, feel free to get in touch for a free mortgage consultation.

We know that being a First Time Buyer in Manchester with no mortgage experience can be hard, which is where we are able to help. Get in touch with your friendly Mortgage Broker in Manchester today.
Gifted Deposit FAQ's | Mortgage Advice in Manchester
What is a gifted deposit?
A gifted deposit could be either the full amount or a portion of the deposit that gets gifted to you, with an agreement that you don't have to repay the money.
How do gifted deposits work?
Gifted Deposits come in useful when you have sufficient money for your monthly repayments but can't afford the initial deposit. Getting a gifted deposit offered may also open you up to better rates from a lender.

It can also help if you're on a smaller salary and can afford the monthly mortgage repayments but then are unable to save your initial deposit.
Who can gift the deposit?
Mainly it is your parents who can gift you the deposit. Ether natural-born and adopted parents it doesn't matter. You may see this online as the "bank of Mum & Dad".

There are possible alternative family members who could also get considered when looking at utilising a gifted deposit. This is dependent on individual lenders so would require care while trying to find the right mortgage lender.

In some cases, if the person helping you is over the age of 55, they may look to gift you a deposit by utilising Equity Release in Manchester.
Do your parents understand that you need additional help?
We often find that clients aren't aware that their parents can help with their mortgage, or don't feel like they can ask them for help.

The truth is that most parents are more than happy to help their children, wanting them to get there foot onto the property ladder.

Taking out a mortgage is preferable than renting, due to you being able to pay less per month potentially.

The deposit can often come from inheritance, although the parents have known to gift it earlier on in life if they already have enough saved or have released a certain amount of equity from their property.
Gifted Deposit vs Loans
Most lenders won't accept a loan as a means of paying your deposit. It is down to the insecurity that you'd have enough disposable income to pay back both the loan and the mortgage simultaneously.
Is there a maximum or minimum gifted amount?
There is no limit on the amount of gift you can receive although I know of at least one lender that insists you put in at least 5% deposit from your funds.
Who could benefit from a gifted deposit?
The people who benefit the most from this tend to be First Time Buyers and Home Movers in Manchester.

It can also be useful when in conjunction with the Help to Buy Scheme, as the required 5% deposit. Depending on the lender, it can be paid via gifted deposit.
What proof is required?
Generally speaking, all lenders will require a gifted deposit form. Depending on the lender. You may get asked to provide further proof and ID (things like donor ID or bank statements).
How Will Lockdown 2.0 Affect the Property Market?
Mortgage Advice in Manchester
On Saturday 31st October, the UK Prime Minister Boris Johnson announced that England would enter a second lockdown from Thursday 5th November, through until Wednesday 2nd December. This was done with the intention to decrease the spread of the coronavirus across the country, with additional restrictions in place.

Luckily for some, this lockdown is a little more relaxed than the first lockdown we experienced, allowing more industries and educational settings to remain open. The thing that initially concerned us the most, was what would happen to the property market. Thankfully, now that Lockdown 2.0 is underway, we can say that everything looks promising and the property market will remains open as normal.

Of course, there has been some minor changes to areas of the home buying process, most of them relating to social distancing. The property market is still standing strong though! Here is a look at some of the things you can still do:
View a property to buy or rent
Visit estate agents, letting agents, sales offices and show homes
Prepare a home to move into
Prepare a home for sale or rent
Move home
Lately we have received lots of mortgage questions from First Time Buyers and Home Movers in Manchester about the current national lockdown and how it affects the property market:
Can I move home in lockdown?
Unlike the start of the last lockdown when the rules were stricter, in this lockdown you are still able to move home if you need to. Home removal services, van hire, everything needed to move home will still be available for people to use.

As mentioned at the start, the process of moving home will have to be completed under the social distancing guidelines. This will be vital to follow if you are either viewing other people's properties or taking house viewings on a regular basis.
Can I visit my estate agents?
Yes, the government are allowing you to visit your estate agent's office. However, this is dependent on individual branches, as some estate agents have chosen to work form home and have closed their public office. You may have to check online to see whether they are open or not.

Nowadays a lot of people prefer to transact over the phone, so even if you can't visit in person, you can rest assured that the staff are fully equipped to get the process started over the phone and even online.

We advise that you take your time if you are going through the process online, and make sure that you fully understand everything that is being communicated.
Can I continue with house viewings?
You can still continue with your house viewings, however, if your estate agent is offering a virtual house viewing, it is probably more recommended to try that. Most home buyers are shifting towards this new way of doing house viewings; as a Mortgage Broker in Manchester, we also expect that the number of virtual viewings will increase over the course of national lockdown.

Even though virtual viewings may be your safest option, we also understand that choosing your dream home is a really big decision for your life going, so if you want to view the property in person, this is understandable. Just remember to be careful!

Your estate agents will also check with the property owners that a property viewing is okay, so long as it is socially distanced property viewing. If they agree, then you can arrange a date and time. Depending on the time of day and the homeowner's personal situation, they may go out somewhere so that there as few people in the household at one time as possible.
Can I put my property on the market?
The property market hasn't been put on pause like it was earlier in 2020, so you are still able to go through the home selling process as normal. You will need to consider everything that comes with selling a property, including choosing an estate agent and a property valuation, getting pictures of the property taken and making it presentable for any viewers.

With the guidelines and restrictions in place, there may be some delay in certain areas of the process, though that should not put you off. Estate agents are very busy right now with enquiries and with all of the different measures in place, things that are normally easy to complete are taking a little longer than they would like.
Can I still use conveyancers?
Yes, conveyancing solicitors will remain open as normal. They will still be available to support the sale of your property. Much like estate agents, most solicitors are working from home and we advise that you be patient as due to the demand in the property market, things may not go as quickly as you'd normally hope for.
Can I take out a mortgage payment holiday during this lockdown?
As a dedicated Mortgage Broker in Manchester, this is a question that we have been asked quite a lot during the course of the pandemic. It was particularly asked by lots of homeowners during the first UK lockdown.

In this lockdown, even though it's much shorter, you can take a mortgage payment holiday if it is really deemed necessary. We understand that there are many homeowners out there that need help meeting their mortgage payments. If this is your situation then taking one out could be a real lifeline for you and your home.

To find out more helpful information about mortgage payment holidays and whether you should take one out, check out our article on mortgage payment holidays.

If you took out a mortgage payment holiday during the first lockdown and are currently still on the scheme, you can extend your holiday further so that it comes to a total of six months holiday. However, if you have already had a six month payment holiday and you have already reached the six month limit and therefore unlikely that you will be able to utilise the scheme again going forward.
Catching up to speed
The property market is slowly catching up to speed and thankfully can continue marching on through this second lockdown. If you are wanting to start the mortgage/home buying process and would like help from someone with experience, it may be within your best interests to get professional Mortgage Advice in Manchester.

With all of the social distancing measures in place and the demand in the market, this could also make things a lot quicker for you. As an experienced Mortgage Broker in Manchester, we have a wealth of knowledge in helping customers achieve their mortgage dreams. We want the whole process to run as smoothly as your do; don't hesitate to get in touch today and we will get you booked in with a mortgage advisor!
How to Improve Your Credit Score in Manchester
The general rule of thumb, whether a first-time buyer, home mover, or budding Buy to Let landlord in Manchester, is the higher your score, the more likely you are to get accepted for a mortgage.

It is worth noting that lenders have an internal credit score that gets built on the information held on your credit report as well as information within your application. Every mortgage provider follows their credit scoring policy, so just because one high street bank declines you, it doesn't necessarily follow that they will all say no.

When it comes to which credit reference agency to use, or which one will the lender use, unfortunately, they do not always divulge this information.

In any case, sometimes lenders chop and change between Experian, Equifax, and Call Credit. It is good practice when looking to obtain a mortgage to check multiple credit reference agencies. The reason for this is that information on one agency's file may differ from that on another.
Top Tips to Improve your Credit Rating:
Stop Unnecessary Credit Searches
Until you have registered with one of the credit reference agencies to check your score, the first thing you need to do is stop applying for new items of credit. Be careful, something as simple as comparing car insurance on a price comparison website can register unwanted credit searches.
Are You on The Voters Roll?
Lenders will use the electoral roll to carry out identity checks, so this is a crucial step. Ensure that your names spelled correctly and you get registered at your current address, your credit file will show if you are registered or not, you can also check with your council.
Active Credit
Mortgage Lenders like to see some "active credit" so having a credit card that you use regularly and pay it off in full each month can help over time. However, bear in mind that taking out new credit could have a short-term negative impact. Don't miss payments!
Don't Run Close To Your Maximum Limit
Regularly running close to your limit on your credit card or going over the limit will harm your score. Using too much of your available credit will hurt your credit score.
Check Your Address History Gets Keyed Correctly
It is essential that you do not appear to be living in two places at once. In any case, this can happen when you incorrectly enter your dates in and dates out of previous addresses.

It's worth spending some time double-checking the dates and making sure the formats of the addresses are consistent. However, this is tricky when you have lived in a flat/apartment.
Close Any Unused Credit Accounts
If you have any credit or store cards that you are not using you should cancel these. Please note again that this could have a short-term negative impact on your score.

The systems can't tell whether it is you or the lender taking this action, but it helps in the long run. Also reduces the chances you'll fall victim to fraud if they were ever to get stolen.
Check Your Account Addresses Are Correct
Ensure that all of your open accounts get registered at your current address and not a previous one.
Remove Any Previous Financial Links
Your ex-partners could affect yours if you hold joint accounts, a mortgage, or a loan. It is vital to inform the credit reference agencies that you are no longer associated and remove any links.

Love it or hate it credit scoring is here to stay. Also, it will have a significant bearing on whether you will qualify for the mortgage you need. It's quicker and more consistent for lenders to rely on their systems than their human resources.

Having an up to date copy of your credit report to provide to your mortgage broker will help build up a full picture of your financial situation and help them recommend the most suitable mortgage for your circumstances.
Mortgage Advice in Manchester
Been Declined? | Mortgage Advice in Manchester
Failing a Credit Score for a Mortgage
Passing a credit score can be quite a challenge for some, especially when applying for a mortgage. Depending on the mortgage lender, some credit scores can be harder to pass. If you would like to find out why you got declined, unfortunately, you may be out of luck. Lenders rarely give out the reasons as to why you did not pass, due to them not wishing to disclose the contents of their scoring system.

Additionally, this is where an expert Mortgage Broker in Manchester may be able to help. Once you obtain a copy of your credit file, your dedicated Mortgage Advisor will be able to go through it with you, working out which lenders you are better off looking at for your mortgage. Putting down more deposit also makes passing your credit score easier.

There are a variety of things that you can do to improve your credit rating. If you own a credit card, you should use it regularly and ideally pay off the full balance each month. Being on the voters roll to show where you live also helps. We recommend closing old bank accounts, credit cards and store cards that you no longer use.

Failing a credit score for one lender is not the end of the road, so don't give up! There is a chance that another lender may be willing to accept you. Be warned though that having too many hard credit footprints registered against you may have a negative effect. Having too many credit searches can affect your credit score.
Declined for a Mortgage on Affordability
All lenders have unique ways of calculating the amount you can borrow. Theoretically, you could approach ten different lenders and get ten different answers, though this is purely dependant on whom you are speaking. Some lenders are more generous than others, for example, when an applicant classes themselves as self-employed.

Your mortgage lender may consider assessing 100% of an employee's bonuses and overtime, however, this isn't the case for all lenders.

When starting with an enquiry, many lenders will only require an affordability assessment to determine your potential course of action. These get referred to as "Soft Searches", and it gives them a rough idea of how to proceed without leaving a hard credit footprint.

On the flip side, some lenders will only perform a "Hard Search", which includes a mandatory credit check on top of their affordability assessment. Click the following link to find more information on Hard & Soft Credit Searches.

If you are looking to buy a home potentially, we recommend having an affordability assessment carried out before home viewings, as this lets you avoid potential disappointment. Proving you have been able to maintain mortgage or rent payments in the past doesn't always guarantee you'll pass the lenders own affordability assessment.
Outside of Lending Policy
Each lender will have their strict lending criteria. Depending on your circumstances, some lenders may be better options than others. These lenders look to carve out niches for themselves, to attract high-quality mortgage borrowers who might not have been a fit for their competitors.

Here are some examples at to why mortgage application get declined:
Length of time in employment or self-employment
A married applicant applying for a sole mortgage
Minimum/maximum age or mortgage term
Minimum/maximum loan amount
Adverse credit history
Not enough deposit
Non-standard property construction
As a Mortgage Broker in Manchester, we will use our experience and knowledge of lenders and their criteria to recommend a mortgage for you, personalised to your circumstances. We have been able to help many first time buyers in Manchester, as well as people looking to remortgage and interested in the buy to let scheme.

Suppose you have a unique or complicated situation. We recommend looking to speak with an experienced Mortgage Advisor in Manchester. Being declined with various lenders directly could negatively affect your chances of being accepted for a mortgage.
Open & Honest Mortgage Advice for Mortgage Difficulties in Manchester
Should I Transfer My Buy-to-Let (BTL) Property to my Limited Company?
Buy to Let Mortgage Advice in Manchester
When Buy to Let customers with an existing property portfolio in Manchester get in touch, we often hear the following question: Am I able to exchange ownership of my property from my own name, into the name of my limited company?
Buying as an SPV
A good starting point is to know how a mortgage lender will approach purchases from Limited Companies. You will be hard pressed to find any lenders that will accept applications from a Limited Company through anything other than an SPV (Special Purpose Vehicle) Company.

An example of this is a company set up with the sole intention of investing in properties like this. When registering your company, your registration will include a SIC (Standard Industrial Classification) Code that shows the types of business in which the company will be involved with. Mortgage lenders normally would not accept applications from general trading companies that can trade in multiple areas.

If, for example, you have a plumbing and heating company (covering both trades), you will need to set up an entirely new company to own the properties in your Buy-to-Let portfolio, rather than buy them through your plumbing company. The SIC codes typically accepted are 68100, 68201, 68209, 68320, though this is varied depending on the lender you go with.

To find out more information about SIC Codes, consult the Government website: https://assets.publishing.service.gov.uk/government/uploads/system/uploads/attachment_data/file/527619/SIC07_CH_condensed_list_en.csv/preview
Pros and Cons
You will find yourself with both advantages and disadvantages to purchasing a Buy-to-Let in Manchester under a Limited Company. For example, applications from SPV's may not be considered by all lenders. Instead, they would rather limit their lending to lone applicants or couples who are applying in their own personal name(s) as opposed to a company name. Because of this, applicants using their own personal name will find themselves with a wider range of products than those using SPV's.

When it comes to the lenders who would lend to an SPV, the mortgage rates are also generally much higher than the rates offered to individual applicants. An upside however, is that the way rental income is taxed has been changed over the past few years, meaning that many people prefer to make use of the advantages generated by SPV ownership (relating to how income is taken and how that income is taxed), as they more than make up for any extra interest charges or lack of choice when it comes to products.

One of the primary things we always suggest our customers look at when evaluating their options of buying your portfolio under an SPV, is that you speak with a specialist tax advisor for professional advice. A tax advisor will be able to assess factors such as external income sources and the rate of personal income tax you pay, seeing how they will affect the overall status of your tax. This will help decide whether or not individual or SPV ownership is an option you should go with.
Should I transfer properties that I already own to an SPV?
As mentioned previously, a main deciding factor in your decision will be the position of your tax. This becomes a little more complicated when you start to weigh in whether or not you want to transfer properties you already own from individual ownership, to company ownership.

The issue is that it isn't just a simple, straight-forward transfer. This type of transaction is a change of legal ownership. Your Limited Company is in it's own right, a completely separate corporate identity. As such, the transaction will be counted as a purchase from you as the individual, to the SPV. With this in mind, stamp duty charges, legal costs and new mortgage and valuation charges will all be in play once again.

You must remember that Limited Companies come with running expenses and legal obligation, however, these may be offset by the possibility of tax-deductible costs or long-term tax benefits.

If a buy-to-let landlord is looking to increase their property portfolio, it would probably benefit them more to keep the current property under their individual name and only use the SPV to buy any additional properties. By doing this, you avoid any switching costs and unwanted legal fees for something that is already yours. That being said, each case is different, and you may find that the upside of a switch is far more beneficial than any of the downsides that come with it. It's all depending on individual circumstance.

As covered, this is very specific territory. If you are thinking of following this path, please get in touch with an experienced and knowledgeable Buy-to-Let Mortgage Broker in Manchester.

Here at Manchestermoneyman, we have many Buy-to-Let experts on hand to provide a high standard of mortgage advice in Manchester, backed up by introductions to appropriately experienced accountants and solicitors as and when necessary.

To speak with a Mortgage Advisor in Manchester, please Get in Touch and we will see what we can do for you.